Spazio: ultima frontiera. Credere che siamo soli nell'universo è come credere che la Terra sia piatta. Come disse l'astrofisico Labeque al palazzo dell'UNESCO, durante il congresso mondiale del SETI di Parigi del Settembre 2008, " SOMETHING IS HERE", "Qualcosa è qui", e I TEMPI SONO MATURI per farsene una ragione. La CIA, l'FBI, la NSA, il Pentagono, e non solo, lo hanno confermato!
giovedì 27 febbraio 2020
Source video: NASA
100-year-old Tuskegee Airman and honorary Brigadier General Charles McGee wants YOU to be an astronaut! NASA is accepting applications March 2 - 31. McGee served as a pilot with the Tuskegee Airmen during World War II – known at the time as the "Red Tails" – was a career officer in the Air Force and also served during the Korean and Vietnam wars, having flown 409 combat missions during his 30 years of service. Of the 355 Tuskegee pilots who flew in combat, McGee is one of only nine surviving. He stopped by NASA to encourage the next generation of Astronauts to fly to new heights.
For more information about a career as a NASA astronaut, and application requirements, visit:
http://www.nasa.gov/astronauts
This video is available for download from NASA's Image and Video Library:
https://images.nasa.gov/details-NHQ_2...
martedì 25 febbraio 2020



Source video: LOL ComediHa - Official Comedy TV show



Source video: LOL ComediHa! - Official Comedy TV show




Source video: NASA

SpaceCast Weekly is a NASA Television broadcast from the Johnson Space Center in Houston featuring stories about NASA's work in human spaceflight, including the International Space Station and its crews and scientific research activities, and the development of Orion and the Space Launch System, the next generation American spacecraft being built to take humans farther into space than they've ever gone before!



Source video: LOL ComediHa! - Official Comedy TV show




Source video: LOL ComediHa! Official Comedy TV show



Source video: Julien Mottet

The Juno space probe, commissioned to enter Jupiter's orbit for study purposes, some years ago captured strange sounds that could have an extraterrestrial origin. When the probe was installed in the polar orbit and began to transmit information about the planet in relation to its atmosphere, magnetic field and climate. For this reason Juno is one of the most important missions that NASA has carried out in recent years. However, when it crossed the planet's magnetic field boundary, the WAVES instruments found on board the probe collected strange sounds that were transmitted as radio signals to NASA. Although NASA initially claimed that the sound was produced by an "astrophysical shock" of the arc, the result of the interaction between the magnetic field of a celestial object and the plasma flow generated by the solar wind. However, this is NASA's version, an explanation so far-fetched that many theorists and ufologists have doubted from the start. Possible alien ship? Although there is no information on how the air currents work in Jupiter, in reality the little known is the information that the Galileo space probe has brought and comes from 1995. Until the probe lasted barely 57 minutes on the surface of Jupiter, before the pressure of the planet destroyed it. It is for this reason that many experts have started to manage the possibility of hiding what really happened in the gas giant. We know that carbon-based life could not survive on a planet like Jupiter, but that does not mean that another life form developed on that planet. Esobiology manages the hypothesis that life forms may exist in the dense atmosphere of over 8000 kilometers deep in Jupiter, which has hydrogen and water. In this way it is believed that the radio waves captured by the Juno probe can be artificially generated by extraterrestrial technology, where a possible spacecraft is not even excluded. Recall that it is not the first time that experts, even members of the scientific community believe that extraterrestrial spacecraft have navigated our Solar System. Could this be the case? Could we have, as in this circumstance, an extraterrestrial civilization already present on Jupiter?




Source video: UFO Documentary

UFOs once landed on the moon according to the latest documents The History series predictably sensationalizes and overdramatizes case investigations and the historical figures involved, adding many story elements that simply never happened. It's already hard enough for those trying to understand the truth about government involvement with U.F.O.s without mixing fact and fiction.




Source video: UFO Documentary

UFO Documentary 2020 - The latest documentary confirms aliens have ever visited the Earth Fox News published a startling article Monday (Dec. 3) with the headline "NASA scientist says Earth may have been visited by aliens." Unsurprisingly, that news rocketed around the web, with similar articles soon turning up in the New York Post, Russia Today and The Daily Wire. (Fox appears to have been the first major U.S. news source to run with the story.) These articles are based on a document on NASA's website by Silvano Colombano, a researcher at NASA's Ames Research Center in Mountain View, California. It really does argue that scientists should at least take seriously the notion that aliens may have visited planet Earth. But Colombano told Live Science that the coverage on Fox News and elsewhere misrepresented what he was trying to say when he wrote it




Source video: Guardian News

Schoolteacher Marzio Toniolo describes life under lockdown in San Fiorano, one of the northern Italian towns under quarantine as coronavirus cases rise. Around 50,000 residents of 11 towns across Lombardy, where the outbreak emerged suddenly on Friday, and Veneto have been quarantined for at least the next 15 days as Italian authorities scramble to contain the worst outbreak of the virus in Europe and the third worst in the world. Coronavirus live blog: latest news and updates Britons returning from coronavirus-hit Italy told to self-isolate
Source video: Quest TV
During a flight over Alaska this pilot and his crew encounter a huge flying object which appears to be following them.
Source video: thirdphaseofmoon
SPACE FORCE is in Effect or something else? I have to tell you that things are getting more and more active lately. New Videos from all around the world. Updates from NASA! Are they telling us everything?
Source video: UFOmania - The truth is out there
Adam Davies, from Walkden, Manchester, UK, caught this extraordinary cylindrical flying object on video. What comes to mind is the testimony of William Tompkins testimony about the U.S. Navy's Secret Space Program. It certainly looks like the kind of ship Tompkins was talking about.
Original video by Adam Davies:
https://youtu.be/ZfcrQSzWN9s
Analysis Of Video: Enhanced & Stabilized by GetOnThisPlanet:
https://youtu.be/-9ddFjQ8yDA



Source video: Alien Planet






A science professor at the University of New Hampshire recently said that "Intelligent creatures from other star systems are visiting planet Earth and have done so in the past as well."
"They are referred to differently as Visitors, Star People, Etc..etc. But one thing is certain, these beings from other worlds are visiting Earth now; This does not imply conjecture or contemplative thoughts." This was stated by Prof. Theodor C. Loder III, Ph.D., Emeritus Professor of Earth Sciences, University of New Hampshire. We cannot turn to the wonders of UFOs without referring to Dr. Edgar Mitchel, extraordinary man and famous space traveler of nuna of the Apollo missions, sixth man to set foot on the moon, former aeronautical engineer and creator of the Institute of Noetic Sciences (IONS) who had a lot to say about extraterrestrial life: "I discovered that I have the advantage of being in the way they visited us on this planet, and the wonder of UFOs is authentic … Yes, some alien aircraft and bodies have been shot down have been recovered. We are not alone in the universe. They have been coming here on Earth for a long time. " Franklin Story Musgrave, an American physician, who resigned from NASA astronaut, also did a lot in designing the structure and improving the Skylab program: "In fact, I firmly believe that extraterrestrial civilizations exist that are making interstellar travel. I hope it is conceivable that they also came here. It is legitimate to assume that the universe must have another life within it and, by logical deduction, sooner or later we could be visited ".
Jodie Foster e Matthew McConaughey sono i protagonisti di Contact, film di fantascienza diretto da Robert Zemeckis che contrappone scienza e religione
.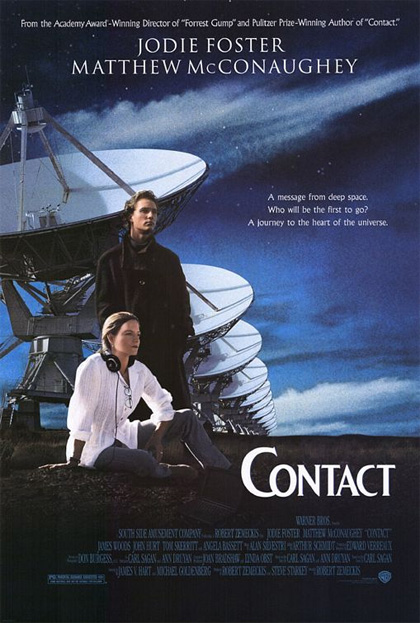 .
Affascinante e coinvolgente,
il film Contact
usciva al cinema nel 1997. Da un punto di vista estetico, oltre all'impeccabile e raffinata regia di
Robert Zemeckis
, c'è da constatare l'ottimo lavoro della Industrial Light & Magic sugli effetti digitali che a più di vent'anni di distanza si difendono molto bene. Il
cuore del racconto
però sono i contenuti, la contrapposizione tra scienza e religione personificate nel film dai personaggi di
Jodie Foster
e
Matthew McConaughey
. Da buon narratore qual è,
Zemeckis fonde dramma, romanticismo e suspence
in una storia tratta dal
romanzo di Carl Sagan
, uno dei più celebri astronomi e astrofisici di sempre. Per leggere le righe che seguono è
necessario aver visto il film
, altrimenti sarebbe un peccato bruciarsi l'occasione di vivere l'esperienza che
Contact
può offrire.
Contact: una storia tra scienza e spiritualità
Il film di
Zemeckis
ci ricorda
Carl Sagan
, l'autore del romanzo da cui è tratto, ma soprattutto l'astronomo che suggerì alla Nasa di far ruotare la sonda Voyager arrivata ai confini del Sistema Solare per scattare una foto alla Terra da quella distanza.
Sagan era uno scienziato con una profonda spiritualità
e per capirlo basta andare a rileggere o riascoltare il suo discorso su quella fotografia, il
pallido puntino azzuro (Pale Blue Dot)
, parole le sue che con il tempo acquisiscono sempre maggiore senso e valore.
Contact affronta il tema del contrasto
con i
due opposti punti di vista
dell'astronoma Ellie Arroway e dell'uomo di fede Palmer Joss (sentimentalmente legati soltanto nell'adattamento cinematografico), ma invece di rispondere su chi abbia toro o ragione, cerca di dimostrare quanto scienza e religione siano complementari nella grandezza dell'universo, la cui comprensione a noi umani sfugge. Possiamo cercare prove e attenterci a soltanto a ciò che è verificabile e verificato, ma quando Palmer domanda a Ellis se voleva bene a suo padre, lei risponde "Sì, moltissimo". E lui: "Provalo". Questo scambio sottolinea quanto la strada degli esseri umani nella ricerca di un significato, debba transitare attraverso l'
essenza stessa dell'umanità
, non certo meno misteriosa dell'universo.
Contact: il primo contatto è già rivelatorio
Quando Ellie è seduta sul cofano della sua auto con le cuffie sulle orecchie e gli occhi chiusi, la scena si sposta al centro ricerche dove in TV Palmer sta parlando di "significato", di "vuoti nella vita da riempire" e che forse abbiamo perso la "direzione", la rotta. Il suo è un discorso spirituale, sta parlando di fede, di valori, di condizione umana, ma sta anche facendo il ritratto di Ellie che in quel momento sta ancora disperatamente cercando di dare un "significato" alla sua vita, mentre le grandi parabole alle sue spalle ruotano fino a trovare la giusta "direzione" per captare il primo segnale.
Le prove di qualcosa di extraterrestre ora ci sono
, ma fino a un secondo prima non c'era forse la fede (essendo lei l'unica ostinata e ossessionata nella ricerca) a sostenere anni di dedizione a qualcosa in cui credere? Ellie decide spiritualmente di essere colei che farà il viaggio, percepisce che sia parte del suo destino. E comunque bisogna applaudire regista e sound designer per aver realizzato una sequenza da brivido.
Contact: il finale enigmatico del film
Il viaggio di Ellie è la parte più spettacolare del film e così doveva essere perché si tratta pur sempre di un film Hollywoodiano, e per riprodurre l'esperienza scientifico-spirituale della protagonista.
"Avrebbero dovuto mandare un poeta"
, dice Ellie quando si trova di fronte alla bellezza del cosmo. Questa frase dà la lettura del messaggio sulla complementarità di scienza e fede: ci voleva un
approccio scientifico
per arrivarci, ci vuole la profondità umana e spiritualità per capirlo. Ellie vive un momento onirico "ricostruito" dagli extraterrestri per farla sentire a suo agio, come spiega quella figura con le sembianze di suo padre. Non ci sono altre domande da porre, né risposte da avere, "funziona così da milioni di anni" dice la voce aliena del padre, si va avanti così "un passo alla volta" e tutto ciò che "rende il vuoto sopportabile è trovarsi gli uni con gli altri". Anche qui il cuore del messaggio è inequivocabile: l'
essenza dell'umanità è ciò che conta
.
Contact: sperimentare e credere, le due facce della stessa moneta
Il film insiste anche su un altro aspetto
, quello della percezione individuale. Per Ellie il viaggio interstellare è durato diciotto ore (tempo registrato di solo disturbo audio/video con la sua videocamera), per tutti gli altri la caduta della capsula è stata istantanea. Quando si trova in aula a dover rispondere alle domande del Senato, Ellie riconosce di non avere prove per testimoniare il suo viaggio e sa di affrontare persone che ragionano esattamente come lei. Ma lei ha vissuto, lei ha sentito, lei ora è diversa. Non lo può spiegare e non lo può condividere. Ma l'uomo di fede Palmer Joss, le crede.
E così noi a fine film dobbiamo scegliere a cosa credere
. Non ci sono prove, c'è soltanto il racconto dell'esperienza di un individuo, ma tutto gravita intorno alla profondità degli umani di essere umani.
Antonio Bracco
Fonte
Dal paradosso di Fermi alle ultime teorie: l'uomo continua a cercare forme di vita extraterrestri
.
Lasciamo perdere le
cento miliardi
di galassie presenti nell'universo, ognuna delle quali ospita migliaia di miliardi di pianeti, e concentriamoci solo sulla nostra galassia: la Via Lattea. Il numero dei pianeti che la compongono si aggira attorno ai 100 miliardi, di questi – anche se le stime variano molto e la
lista dettagliata
è decisamente più stringata – circa
un miliardo
è potenzialmente abitabile. Se anche solo lo 0,1% ospitasse qualche forma di vita, staremmo comunque parlando di un milione di pianeti abitati da alieni (dagli omini verdi dell'immaginario collettivo fino a qualche modesto batterio).
E allora com'è che non troviamo nessuno? Come noto, questo è il cuore del paradosso di Fermi: siamo circondati da miliardi di pianeti che potrebbero ospitare vite extraterrestri ma non le abbiamo mai incrociate. Non solo: nessun extraterrestre ha nemmeno mai trovato noi. "Se ci sono miliardi di sistemi planetari nella nostra galassia, molti dei quali sono miliardi di anni più vecchi del nostro sistema solare, e se davvero la Terra è un pianeta abbastanza comune, allora dovrebbe esistere almeno qualche civiltà che ha già raggiunto un livello tecnologico molto più avanzato del nostro", ha
scritto
Leigh Phillips su
Jacobin
.
È una questione di logica: l'homo sapiens, per i tempi dell'universo, è una specie recentissima. Il che rende plausibile che, altrove, ci sia qualche specie che già da molto tempo è tecnologicamente superiore alla nostra. E visto che noi stiamo cercando altre forme di vita, è plausibile che altri l'abbiano già fatto e lo stiano tuttora facendo. E allora perché nessuno ci invia qualche segnale?
Stephen Hawking affermò che "non siamo altro che una specie avanzata di scimmie su un pianeta minore di una stella mediocre"
: una visione molto diversa dall'eccezionalità con cui l'uomo ha sempre guardato a se stesso. Ma non tutti gli esperti la pensano come lo scomparso astrofisico: il direttore del Centro Astrobiologico della Columbia, Caleb Scharf, ha rovesciato le tesi di Hawking in un suo libro del 2014 (
Il Complesso di Copernico
), mostrando come il Sole, in verità, non sia affatto mediocre e quanto l'architettura del nostro sistema solare sia molto particolare.
L'eccezionalità della vita
Se non troviamo nessuno, forse è perché le condizioni che hanno reso possibile la vita sono talmente particolari e difficili da replicare che non è così ovvio che possano ripresentarsi nelle (relative) vicinanze. Una tesi simile è stata sostenuta dall'astrofisico John Gribbin nel suo saggio Alone in the Universe: secondo Gribbin, la vita sulla Terra è stata resa possibile da una catena di coincidenze estremamente improbabili.
Non solo perché in qualunque momento precedente a quello in cui i primi microbi hanno fatto la loro comparsa (circa 3,7 miliardi di anni fa) ci sarebbe stato troppo poco metallo per rendere la vita possibile, ma anche perché la Terra gode di una posizione incredibilmente privilegiata. "Se fossimo un po' vicini al centro della galassia, ci sarebbe troppo affollamento, con esplosioni di supernove e lampi di raggi gamma in grado di sterilizzare tutto; se invece fossimo più lontani dal centro di quanto non siamo, la mancanza di metalli ci affonderebbe", scrive ancora Phillips, sottolineando anche l'importanza della protezione svolta da Giove e dalla Luna.
Andrea Signorelli
SETI
Commento di Oliviero Mannucci:
vedete caro Signorelli e cari lettori di questo blog, purtroppo Hawking aveva ragione. Il mondo scientifico si comporta più come gli come le scimmie cattive del film "Il pianeta delle scimmie", è cieco ed arrogante. Si continua a scandagliare il cielo con i nostri primitivi radiotelescopi "di pietra" mentre la casistica ufologica, ricchissima, ci dice che la Terra è visitata da tempi immemorabili da esseri extraterrestri. Ma, la scienza ufficiale, preferisce continuare ad ignorare tale casistica, perchè giudicata non scientifica. Invece mandare segnali radio alla limitata velocità della luce ( una sorta di segnali di fumo un po' più tecnologici), che non serve a niente, è scientifico! A questo punto perchè non utilizzare la telepatia, ? Se non altro è stato appurato che spesso funziona e il pensiero viaggia a velocità infinita, se non altro si avrebbe una risposta immediata tipo " Ma che cazzo state cercando ancora, non ci avete visto che siamo arrivati sul vostro pianeta da migliaia di anni? Che c'avete gli occhi foderati di prosciutto? " Il problema è che il SETI, fa finta di cercare la vita extraterrestre, ma di fatto non vuole trovare gli ET, e non c'è peggior sordo e cieco di chi non vuole ne sentire ne vedere! Le consiglio la lettura di questo
bel libro
della NASA da scaricare in PDF. Vedrà, dopo che l'avrà letto le sarà tutto più chiaro.
lunedì 24 febbraio 2020
I used to have reoccurring nightmares about falling into a pit. A new image from NASA's Mars Reconnaissance Orbiter spacecraft (aka the MRO) pushes all my childhood scary-dream buttons.
The image, acquired Jan. 24 by the MRO's HiRise camera, shows a startling black pit against a lighter expanse of surface. These leads to a big question: What's hiding down there in the dark depths?
The HiRise team at the University of Arizona performed a brightness enhancement to see into the abyss.
"The floor of the pit appears to be smooth sand and slopes down to the southeast,"
HiRise co-investigator Ross Beyer wrote in a Friday statement
. "The hope was to determine if this was an isolated pit, or if it was a skylight into a tunnel, much like skylights in the lava tubes of Hawai'i."
Scientists suspect
Mars is home to volcanic caves
, which could be fascinating destinations for future rovers or human explorers. Pits like the one the MRO is investigating could be gateways to these underground worlds.
This particular chasm isn't giving up any secrets just yet. "We can't obviously see any tunnels in the visible walls, but they could be in the other walls that aren't visible," Beyer wrote.
What lies beneath? For now that'll have to remain a Mars mystery.
Scientists suspect
Mars is home to volcanic caves
, which could be fascinating destinations for future rovers or human explorers. Pits like the one the MRO is investigating could be gateways to these underground worlds.
This particular chasm isn't giving up any secrets just yet. "We can't obviously see any tunnels in the visible walls, but they could be in the other walls that aren't visible," Beyer wrote.
What lies beneath? For now that'll have to remain a Mars mystery.
Amanda Kooser
Source News


Aveva 101 anni. La sua storia raccontata nel film ''Diritto di Contare''
La consegna della Medal of Freedom da parte di Barack Obama nel 2015 (ansa)
E' morta a 101 anni Katherine Johnson, la matematica, informatica e fisica statunitense, afroamericana e originaria della Virginia, che ha contribuito con i suoi calcoli a lanciare la corsa nello spazio lavorando per la Nasa.

La sua storia è stata raccontata nel film del 2016 "Il diritto di contare" (Hidden Figures il titolo originale, di Theordore Melfi). Nel 2015 l'allora presidente degli Usa, Barack Obama, l'ha insignita della Medal of Freedom, la più alta onorificenza civile negli Usa.
Fonte
Dark matter doesn't emit light. It can't be directly observed with any of the existing tools of astronomers. Yet astrophysicists believe it and dark energy make up most of the mass of the cosmos. What dark matter is, and what it isn't. here.
Dark matter is a mysterious substance thought to compose perhaps about 27% of the makeup of the universe. What is it? It's a bit easier to say what it isn't.
It isn't ordinary
atoms
– the building blocks of our own bodies and all we see around us – because atoms make up only somewhere around 5% of the universe, according to a
cosmological
model called the Lambda Cold Dark Matter Model (aka the
Lambda-CDM model
, or sometimes just the Standard Model).
Dark matter isn't the same thing as
dark energy
, which makes up some 68% of the universe, according to the Standard Model.
Dark matter is invisible; it doesn't emit, reflect or absorb light or any type of
electromagnetic radiation
such as X-rays or radio waves. Thus, dark matter is undetectable directly, as all of our observations of the universe, apart from the detection of
gravitational waves
, involve capturing electromagnetic radiation in our telescopes.
Yet dark matter does interact with ordinary matter. It exhibits measurable gravitational effects on large structures in the universe such as galaxies and galaxy clusters. Because of this, astronomers are able to make
maps
of the distribution of dark matter in the universe, even though they cannot see it directly.
They do this by measuring the effect dark matter has on ordinary matter, through gravity.
This all-sky image – released in 2013 – shows the distribution of dark matter across the entire history of the universe as seen projected on the sky. It's based on data collected with the European Space Agency's Planck satellite. Dark blue areas represent regions that are denser than their surroundings. Bright areas represent less dense regions. The gray portions of the image correspond to patches of the sky where foreground emission, mainly from the Milky Way but also from nearby galaxies, prevents cosmologists from seeing clearly. Image via ESA.
There is currently a huge international effort to identify the nature of dark matter. Bringing an armory of advanced technology to bear on the problem, astronomers have designed ever-more complex and sensitive
detectors
to tease out the identity of this mysterious substance.
Dark matter might consist of an as yet unidentified
subatomic particle
of a type completely different from what scientists call
baryonic
matter – that's just ordinary matter, the stuff we see all around us – which is made of ordinary atoms built of
protons
and
neutrons
.
The list of candidate subatomic particles breaks down into a few groups: there are the
WIMP
s (Weakly Interacting Massive Particles), a class of particles thought to have been produced in the early universe. Astronomers believe that WIMPs might self-annihilate when colliding with each other, so they have searched the skies for telltale traces of events such as the release of
neutrinos
or
gamma rays
. So far, they've found nothing. In addition, although a theory called
supersymmetry
predicts the existence of particles with the same properties as WIMPs, repeated searches to find the particles directly have also found nothing, and experiments at the
Large Hadron Collider
to detect the expected presence of supersymmetry have completely failed to find it.
Several different types of detector have been used to detect WIMPs. The general idea is that very occasionally, a WIMP might collide with an ordinary atom and release a faint flash of light, which can be detected. The most sensitive detector built to date is
XENON1T
, which consists of a 10-meter cylinder containing 3.2 tons of liquid xenon, surrounded by photomultipliers to detect and amplify the incredibly faint flashes from these rare interactions. As of July 2019, when the detector was decommissioned to pave the way for a more sensitive instrument, the
XENONnT
, no collisions between WIMPs and the xenon atoms had been seen.
Although WIMPs have long been the favored candidate for dark matter, they're not the only candidates. The failure to find WIMPs, and the attendant frustration with not being able to account for a significant percentage of the universe's mass, has led many scientists to look at possible alternatives.
At the moment, a hypothetical particle called the
axion
is receiving much attention. As well as being a strong candidate for dark matter, the existence of axions is also thought to provide the answers to a few other persistent questions in physics such as the
Strong CP Problem
.
Astronomer Fritz Zwicky first predicted the existence of dark matter in the 1930s following his observations of the Coma galaxy cluster. Image via zwicky-stiftung.ch.
The idea that there might be things in the universe which are invisible to us, that emit no light, has a long history going back hundreds of years to the days of Newton. With the discovery of so-called "
dark nebulae
" – clouds of interstellar dust blocking the light from background stars – and
Pierre Laplace
's 18th-century speculations about objects which might swallow light, later to become known as black holes, astronomers came to accept the existence of a so-called "dark universe."
But in modern times, it was astronomer
Fritz Zwicky
, in the 1930s, who made the first observations of what we now call dark matter. His 1933 observations of the Coma Cluster of galaxies seemed to indicated it has a mass 500 times more than that previously calculated by
Edwin Hubble
. Furthermore, this extra mass seemed to be completely invisible. Although Zwicky's observations were initially met with much skepticism, they were later confirmed by other groups of astronomers.
Thirty years later, astronomer
Vera Rubin
provided a huge piece of evidence for the existence of dark matter. She discovered that the centers of galaxies rotate at the same speed as their extremities, whereas, of course, they should rotate faster. Think of a
vinyl LP
on a record deck: its center rotates faster than its edge. That's what logic dictates we should see in galaxies too. But we do not. The only way to explain this is if the whole galaxy is only the center of some much larger structure, as if it is only the label on the LP so to speak, causing the galaxy to have a consistent rotation speed from center to edge.
Vera Rubin, following Zwicky, postulated that the missing structure in galaxies is dark matter. Her ideas were met with much resistance from the astronomical community, but her observations have been confirmed and are seen today as pivotal proof of the existence of dark matter. In honor of this crucial and historic piece of detective work toward establishing the existence of dark matter, the revolutionary
Large Synoptic Survey Telescope
, currently under construction in Chile and scheduled to see first light next year, was recently renamed the
Vera C. Rubin Observatory
.
Dark matter pioneer Vera Rubin (1928-2016). This image – taken at Lowell Observatory – is from 1965. Image via Carnegie Institute/ NPR.
Some astronomers have tried to negate the need the existence of dark matter altogether by postulating something called
Modified Newtonian dynamics
(MOND). The idea behind this is that gravity behaves differently over long distances to what it does locally, and this difference of behavior explains phenomena such as galaxy rotation curves which we attribute to dark matter. Although MOND has its supporters, while it can account for the rotation curve of an individual galaxy, current versions of MOND
simply cannot account
for the behavior and movement of matter in large structures such as galaxy clusters and, in its current form, is thought unable to completely account for the existence of dark matter. That is to say, gravity
does
behave in the same way at all scales of distance. Most versions of MOND, on the other hand, have
two
versions of gravity, the weaker one occurring in regions of low mass concentration such as in the outskirts of galaxies. However, it is not inconceivable that some new version of MOND in the future might yet account for dark matter.
Although some astronomers believe we will establish the nature of dark matter in the near future, the search so far has proved fruitless, and we know that the universe often springs surprises on us so that nothing can be taken for granted.
The approach astronomers are taking is to eliminate those particles which cannot be dark matter, in the hope we will be left with the one which is.
It remains to be seen if this approach is the correct one.
Bottom line: Dark matter makes up some 27% of the universe according to astronomical theories. It cannot be seen or detected directly via the existing tools of astronomers, but its effect can be measured via its gravitational pull on ordinary matter.
Andy Briggs



Source video: NASA

Pioneering NASA mathematician Katherine Johnson has died at the age of 101. Johnson was part of a group of African-American women who worked on critical mathematical calculations in the early days of human spaceflight, as chronicled in the best-selling book and hit movie "Hidden Figures." "She was an American hero and her pioneering legacy will never be forgotten," said NASA Administrator Jim Bridenstine.