Spazio: ultima frontiera. Credere che siamo soli nell'universo è come credere che la Terra sia piatta. Come disse l'astrofisico Labeque al palazzo dell'UNESCO, durante il congresso mondiale del SETI di Parigi del Settembre 2008, " SOMETHING IS HERE", "Qualcosa è qui", e I TEMPI SONO MATURI per farsene una ragione. La CIA, l'FBI, la NSA, il Pentagono, e non solo, lo hanno confermato!
venerdì 20 febbraio 2015
UFOs Chasing Aircrafts Black Box Mysteries The History Channel Documentary ufo documentary, documentary ufo, ufo documentary history, ufo, documentary, ufo d.

NEW History Channel Documentary UFO vs Humans Mystery of Pacific's Bermuda Triangle.

Black Box UFO Secrets, UFOs Aliens Documentary area 51,ufo,alien,bigfoot,aliens,ufo sightings,ufo news,bigfoot sightings,paranormal,are aliens real,ufos,spac.

ufo documentary, documentary ufo, ufo documentary history, ufo, documentary, ufo documentary 2014, documentaries, history channel documentary, national geogr.
giovedì 19 febbraio 2015
L'escalation di violenza può avere conseguenze devastanti. Merkel e Hollande a Kiev e Mosca
Chiesta ispezione congiunta Ue Iaea sui 15 reattori nucleari ucraini - See more at: http://www.greenreport.it/news/energia/guerra-ucraina-verdi-rischio-le-vecchie-centrali-nucleari-sfruttate-al-massimo/#prettyPhoto%5Bphotogallery%5D/0/
Mentre Angela Merkel e François Hollande volano a Kiev e Mosca per cercare di sedare per via diplomatica il conflitto riesploso drammaticamente nel sud-est dell'Ucraina tra le truppe governative e le milizie filo-russe delle auto-dichiarate "Repubbliche popolari" del Donbass, i nuovi feroci scontri non stanno solo provocando tensioni in Europa e nel mondo per il timore che la nuova guerra fredda con la Russia si trasformi in qualcosa di molto più caldo, ma hanno definitivamente messo in ginocchio il settore energetico ucraino, perché il carbone che serviva a scaldare le case del Paese veniva quasi tutto dalle aree in mano ai ribelli o da altre dove la guerra tra nazionalisti e filo-russi ha portato alla chiusura delle miniere.
E' per questo che l'Ucraina a deciso di sfruttare al massimo un parco nucleare obsoleto, ereditato dall'unione sovietica, che comprende anche la più grande centrale nucleare europea, con grosse difficoltà di rifornimento di combustibile russo.
Di fronte a questa situazione i coportavoce dei Verdi, Luana Zanella e Angelo Bonelli, sottolineano che «L'impegno dell'Italia e dell'Europa per risolvere il conflitto bellico in Ucraina e scongiurare la terribile deriva di un'altra guerra nel cuore del nostro continente deve essere massimo. Non va sottovalutato il grande pericolo connesso all'esistenza sul territorio ucraino di 15 reattori nucleari attivi, distribuiti tra 4 centrali nucleari, di Khmelnitski, di Rovno, dell'Ucraina del Sud, di Zaporižžja, oltre ai reattori spenti della centrale di Chernobyl».
Secondo i due esponenti dei Verdi, «Il livello di sicurezza risulta molto carente, come dimostrano gli incidenti, di cui uno molto recente a Zaporižžja, nel sudest del paese. L'Ucraina dipende per il 50% del proprio fabbisogno energetico dall'energia nucleare, sfruttata al massimo vista la difficoltà di approvvigionamento di gas e carbone, i reattori sono di fabbricazione sovietica e il tentativo di sostituire combustibile americano a quello russo ha compromesso il loro funzionamento e aumentato il rischio di incidenti: chiediamo quindi che si svolga al più presto un'ispezione dell'Unione europea congiuntamente ai funzionari dell'Iaea (Agenzia internazionale per l'energia atomica) nelle centrali atomiche ucraine».
Zanella e Bonelli concludono: «E' evidente che l'escalation di violenza può avere conseguenze devastanti. Ci auguriamo si dia seguito alle parole accorate di Papa Francesco e ascolto alla disperazione della popolazione inerme e indifesa, che deve poter riprendere il cammino verso una compiuta democrazia, pacifica convivenza, trasformazione ecologica del proprio Paese».
Fonte

La Nasa non è solo l'agenzia governativa più nota al mondo. E' anche un'istituzione che ha una grande capacità comunicativa specialmente in termini di social media. Oggi mette a nostra disposizione gratuitamente una magnifica collezione di file audio, suonerie e dichiarazioni di astronauti.

In breve sintesi, grazie a questo servizio della Nasa avrete il piacere di utilizzare il bip di Sputkink come suoneria per i vostri messaggi e il rumore del lancio di un razzo per le vostre notifiche!
La collezione Nasa è particolarmente completa e – generosamente – senza copyright e copre un ampio sprettro di suoni emblematici che rievocano le missioni che hanno fatto la storia dell'esplorazone spaziale e di altre ben più di recenti.
Per dirne una, sarà possibile avvalersi della celebre frase di Neil Armstrong. Quale? Ma ovviamente l'immancabile: « E' un piccolo passo per l'uomo ma un grande passo per l'umanità ». E se fosse il vostro assillante capo a chiamarvi?
Non sarebbe bellissimo potere utilizzare il famoso e inquietante « Houston ? Abbiamo un problema».
Non vedete l'ora di iniziare subito e immediatamente il downoload di questo piccolo tesoro?
Allora sappiate che i contenuti sono disponibili in formato MP3 o in M4R. Non dovete fare altro che seguire questo link!
Buon divertimento e grazie Nasa!
Source
Esattamente mancano 99 giorni alla più grande esposizione universale, l'EXPO 2015, con sede a Milano che quest'anno avrà come tema principale:
"Nutrire il Pianeta, Energia per la vita".
Personaggio dell'anno e quindi scelto come testimonial sarà l'astronauta italiana
Samantha Cristoforetti,
già da qualche mese in orbita nello spazio. Interessante la testimonianza rilasciata dalla Cristoforetti risalente a qualche mese fa in cui aveva dichiarato:
"Bisogna essere consapevoli dell'effetto che il cibo ha sul nostro organismo. Non è solo una fonte di energia ma accanto all'energia il cibo ci permette di assorbire tutta una serie di micronutrienti che sono fondamentali per il buon funzionamento del nostro organismo".
A conferma di ciò, ieri, Samantha Cristoforetti ha inviato un video dalla sua navicella spaziale nel quale ha dichiarato:
"Oggi sulla stazione spaziale internazionale si mangia insalata di quinoa con lo sgombro. I pasti sono un momento molto importante della nostra giornata perché è bello, ogni giorno, potersi sedere a tavola con tutto il mondo".
In previsione dell'Expo 2015, ad ognuno di noi è stata data la possibilità di inviare un video attraverso cui poter raccontare i nostri comportamenti a tavola, le nostre esperienze e spiegare perchè e quale importanza il cibo assume nella nostra vita. Sarà possibile, durante l'Expo 2015, condividere con gli altri le nostre esperienze dato che tutte le testimonianze saranno proiettate nel Padiglione Zero su di un grande schermo: video provenienti da tutte le parti del mondo compreso quello di Samantha Cristoforetti dallo spazio.
Fonte
Attraverso titoli terrificanti e video scioccanti, l'ISIS viene utilizzata come strumento per giustificare la guerra in Medio Oriente e per provocare paura e panico in tutto il mondo. No, questa non è una "teoria della cospirazione", è semplicemente il più vecchio trucco utilizzato dall'elite. L'ISIS è stata creata dalle forze che la combattono.

Fin dalla creazione delle nazioni democratiche – quando ancora l'opinione pubblica contava – la classe politica era posta di fronte ad un dilemma: La guerra è necessaria per ottenere il potere, la ricchezza, e il controllo, ma il pubblico ha la tendenza ad essere contrario ad essa. Cosa fare? La risposta è stata trovata decenni fa ed è ancora utilizzata con successo oggi: Creare un nemico così terrificante che le masse implorino il governo di andare in guerra.
Questo è il motivo dell'esistenza dell'ISIS. Questo è il motivo per cui i video delle decapitazioni sono così "ben prodotti" e pubblicizzati in tutto il mondo attraverso i media mainstream. Questo è il motivo per cui le fonti di notizie riportano regolarmente titoli allarmistici circa l'ISIS. Essi sono utilizzati per servire al meglio gli interessi delle élite mondo. Gli obiettivi sono: influenzare l'opinione pubblica per favorire l'invasione dei paesi del Medio Oriente, fornire un pretesto per l'intervento di una "coalizione" internazionale e produrre una minaccia nazionale che verrà utilizzata per togliere i diritti e aumentare la sorveglianza. In breve, l'ISIS è un altro esempio della tattica secolare utilizzata per creare un nemico terribile in modo spaventare le masse.
"Inoltre, mentre l'America diventa una società sempre più multi-culturale, potrebbe essere più difficile costruire un consenso su questioni di politica estera, tranne in circostanze di una minaccia esterna diretta." Zbigniew Brzezinski, La Grande Scacchiera
Circa un decennio dopo l'invasione dell'Iraq (che è ancora una zona pericolosamente caotica), la maggior parte concorda sul fatto che la guerra si basò su false premesse. Il pubblico alla fine riconobbe che le "armi di distruzione di massa" abbondantemente propagandate da George W. Bush e Donald Rumsfeld erano una totale invenzione. Nonostante questo fatto, gli Stati Uniti ed i suoi alleati (insieme con il Consiglio delle Relazioni Estere e ad altri gruppi di opinione internazionali elitari) stanno ancora cercando di spingere la guerra in Medio Oriente, con la Siria come uno degli obiettivi primari. Mentre il pubblico in tutto il mondo occidentale fosse decisamente contro l'invasione non provocata della Siria, un unico evento mediatico ha cambiato completamente le carte in gioco: un breve video in cui un jihadista mascherato decapita un giornalista americano.
La protesta è stata immediata. Come potrebbe non esserlo stato? Girato in alta definizione, con una perfetta illuminazione cinematografica, i video delle decapitazioni sono messi a punto per generare una sensazione viscerale di orrore e terrore. Vestito con un abito arancione che ricorda quelli utilizzati nelle prigioni di Guantanamo Bay, un giornalista occidentale indifeso viene giustiziato da un fanatico barbaro vestito di nero, mentre agita in aria un coltello. Non esiste idea migliore per manipolare l'opinione pubblica al fine di scatenare una guerra. Come effetto "bonus", il video suscita isteria anti-islamica in tutto il mondo, un sentimento che viene costantemente sfruttato dall'élite mondiale.
Poco dopo, viene dichiarata guerra all'ISIS, quasi come se fosse stato pianificato da mesi. In un'intervista con USA Today, l'ex direttore della CIA Leon Panetta ha dichiarato che gli americani stessi dovrebbero prepararsi per una guerra di 30 anni che si estenderà ben oltre la Siria:
"Penso che ci troviamo davanti ad una guerra di 30 anni," , che dovrà estendersi oltre lo Stato islamico per includere minacce emergenti in Nigeria, Somalia, Yemen, Libia e altrove. USA Today, Panetta: '30-year war' and a leadership test for Obama
In sostanza, nel giro di pochi mesi, un gruppo terroristico letteralmente spuntato fuori dal nulla, causando caos nelle regioni che gli Stati Uniti e i loro alleati cercano di attaccare da anni. Il suo nome: Stato islamico siriano, o ISIS. Il nome stesso è simbolico e rivelatore. Perché un gruppo "islamico", prende il nome da un'antica dea egizia? Forse perché è una delle figure preferite dell'elite occulte – i veri colpevoli dietro gli orrori del'ISIS.
CONTINUAZIONE DELLA STORIA
L'idea della CIA che finanzia un gruppo islamico per favorire i propri interessi politici non è esattamente "inverosimile". In realtà, ci sono diversi casi evidenti nella storia recente in cui gli Stati Uniti hanno apertamente sostenuto i gruppi islamici estremisti (soprannominati "combattenti per la libertà" nei mass media). L'esempio più flagrante e ben documentato è la creazione dei mujaheddin in Afghanistan, un gruppo che è stato creato dalla CIA per attirare l'URSS in una "trappola afghana". Il termine mujaheddin descrive "musulmani che lottano sul sentiero di Allah" e deriva dalla parola "jihad". Il "grande nemico" di oggi era l'amico del passato. Un importante architetto di questa politica fu Zbigniew Brzezinski uno degli statisti più influenti nella storia degli Stati Uniti. Da JFK a Obama, Brzezinski è stato una figura importante che ha plasmato la politica degli Stati Uniti in tutto il mondo. Creò anche la Commissione Trilaterale con David Rockefeller. Nel seguente estratto da un'intervista del 1998, Brzezinski spiega come i mujaheddin sono stati utilizzati in Afghanistan:
Domanda: L'ex direttore della CIA, Robert Gates, ha dichiarato nelle sue memorie ["From the Shadows"], che i servizi segreti americani cominciarono ad aiutare i Mujahadeen in Afghanistan sei mesi prima dell'intervento sovietico. In questo periodo tu eri il consigliere per la sicurezza nazionale del presidente Carter. Hai quindi giocato un ruolo in questa vicenda. E 'corretto?
Brzezinski: Sì. Secondo la versione ufficiale della storia, l'aiuto della CIA nei confronti dei Mujahadeen è iniziato nel corso del 1980, vale a dire, dopo che l'esercito sovietico invase l'Afghanistan, il 24 dicembre 1979. La realtà, segretamente custodita fino ad ora, è completamente diversa, infatti, fu il 3 luglio del 1979 la data in cui il presidente Carter firmò la prima direttiva per aiutare segretamente gli oppositori del regime filo-sovietico di Kabul. E quel giorno, ho scritto una nota al presidente in cui spiegai che a mio parere questi aiuti avrebbero provocato un intervento militare sovietico. Le Nouvel Observateur, l'intervento della CIA in Afghanistan
Pochi decenni dopo, questi "combattenti per la libertà" si sono trasformati in terroristi talebani, tra i quali Osama bin-Laden, inizialmente un agente della CIA e successivamente nemico pubblico n ° 1. Il gruppo è stato poi usato per giustificare la guerra in Afghanistan. Si tratta di uno dei numerosi esempi in cui è stato creato un gruppo islamico, finanziato e utilizzato per promuovere gli interessi degli Stati Uniti. Gli Stati Uniti hanno anche sostenuto la Fratellanza Musulmana in Egitto, il Sarekat Islam in Indonesia, il Jamaat-e-Islami in Pakistan, e il regime islamico di Arabia Saudita per contrastare la Russia.
"L'America non ha amici o nemici permanenti, solo interessi". Henry Kissinger
DETTAGLI DISCUTIBILI DELL'ISIS
L'ISIS è la nuova Al-Qaeda, completamente adattata ai tempi moderni. Spuntando dal nulla nel giro di pochi mesi, l'ISIS apparentemente si è assicurata un gran numero di risorse, armi, attrezzature multimediali high-tech e specialisti in propaganda. Da dove provengono i soldi e il know-how?
La storia del leader dell'ISIS, Abu Bakr al Baghdadi, è estremamente torbida. Secondo alcuni rapporti, al Baghdadi è stato arrestato dagli americani a Camp Bucca in Iraq per un certo numero di anni. Alcuni ipotizzano che è durante questo periodo che iniziò a collaborare con la CIA.
"Fu catturato dagli americani nel 2005 e venne trattenuto a Camp Bucca nel soffocante sud dell'Iraq per anni, anche se è difficile individuare le circostanze e la tempistica della sua liberazione. In ogni caso, fu libero dal 2010 e fu talmente attivo nel movimento jihadista che assunse il controllo del ramo iracheno di al Qaida dopo la morte dei due superiori ". Miami Herald, Who is Iraq's Abu Bakr al Baghdadi, world's new top terrorist?
Poco dopo il suo rilascio, al Baghdadi salì rapidamente tra i ranghi di Al-Qaeda, accumulò una fortuna, fu espulso da Al-Qaeda, e ora conduce l'ISIS. Venne supportato da forze esterne? Durante la sua prima apparizione pubblica come capo dell'ISIS, al Baghdadi ha ordinato ai musulmani di obbedire a lui come "il leader al vostro comando." E' stato anche visto indossare un orologio costoso, probabilmente un Rolex, un Sekonda o un Omega Seamaster – tutti costano un paio di migliaia di dollari. Una scelta di moda strana per un leader che ha giurato di comabattere la "decadenza occidentale"
Configurati per il massimo effetto teatrale, i video hanno dettagli discutibili. In primo luogo, perché le vittime prossime alla decapitazione sono così calme e tranquille? Inutile dire che una persona in procinto di essere sgozzata è in stato di panico e terrore. Perché non sgorgava sangue quando il coltello ha tagliato la gola della vittima? E, infine, perché il boia è mascherato? Perché si è preoccupato di indossarla? Perché, inoltre, parla con un accento inglese? Soprannominato "Jihadist John" dai giornali di scarsa qualità occidentali, è un modo per dire al pubblico che gli estremisti possono provenire da occidente in modo da essere dubbiosi anche del proprio vicino di casa.
Il materiale di propaganda utilizzato dall'ISIS è moderno e prodotto con attrezzature sofisticate e realizzato da produttori stagionati. La loro qualità è un gradino sopra la solita "propaganda islamica" che si trova in circolazione nel Medio-Oriente.
Naomi Wolf, l'autore ed ex consigliere di Bill Clinton ha attirato una valanga di critiche, quando ha espresso scetticismo riguardo l'ISIS chiedendo rigore giornalistico.
Il post venne cancellato.
Naomi Wolf ha buone ragioni per parlare dell'ISIS. Nel suo libro del 2007, "The End of America"
​​
, la Wolf ha delineato 10 passi necessari ad un gruppo fascista (o governo) per distruggere il carattere democratico di uno stato-nazione e sovvertire le libertà sociali e politiche precedentemente esercitate dai suoi cittadini.
Creare un nemico interno ed esterno terrificante
Creare prigioni segrete in cui ha luogo la tortura
Sviluppare una casta delinquente o forza paramilitare che non risponde ai cittadini
Impostare un sistema di sorveglianza interno
Molestare gruppi di cittadini
Impegnarsi nella detenzione arbitraria e nel rilascio
Avere come obiettivo individui chiave
Trattare tutti i dissidenti politici come traditori
Sospendere lo Stato di diritto
Mentre il pubblico nel mondo occidentale si affretta a etichettare chiunque metta in discussione una storia ufficiale come un "teorico della cospirazione", il pubblico in Medio Oriente è molto scettico sull'ISIS e sulla sua cosiddetta "Jihad". Ad esempio, in Libano e in Egitto, l'idea che l'ISIS sia una creazione degli Stati Uniti era così diffusa (funzionari di alto grado lo sostengono), che l'ambasciata americana a Beirut dovette negare tali voci.
Per molti abitanti del Medio Oriente, le azioni e il modus operandi dell'ISIS sono sospetti. Il gruppo infatti sembra essere fatto su misura per aiutare gli Stati Uniti e la coalizione a raggiungere i suoi obiettivi militari in Medio Oriente.
Questa mappa mostra le attuali roccaforti ISIS. Come potete vedere, si trovano esattamente dove la coalizione ha cercato per anni di mettere le sue sporche mani.
Quando la minaccia ISIS si diffonderà ai paesi vicini, ciò consentirà attacchi militari non provocati contro varie nazioni. E' solo una questione di tempo prima che gli attacchi aerei saranno considerati inefficaci e le truppe di terra diverranno necessarie. Alla fine, queste operazioni potranno completare un piano a lungo termine per ri-organizzare il Medio Oriente, eliminando eventuali minacce per Israele e aumentando significativamente la pressione sull'Iran, rimanendo l'unica forza islamica della regione.
L'ISIS UTILIZZATO PER LA REPRESSIONE INTERNA
Disgustati dai video delle decapitazioni, la maggior parte degli occidentali è a favore dell'annientamento dell'ISIS. Naturalmente, non si rendono conto che questo stesso fervore li porterà a diventare vittime dei loro stessi governi.
Nelle ultime settimane, l'ISIS ha emesso diverse minacce a paesi specifici, causando il panico in ogni uno di loro, spingendo i governi ad "agire". Purtroppo, "agire" significa ridurre la libertà di parola aumentando la sorveglianza. Il Canada sta già utilizzando l'ISIS come un motivo per spiare i cittadini e sta lavorando su nuove leggi che permettono una maggiore sorveglianza.
"Il capo della agenzia di spionaggio del Canada ha detto che non ci sono segni di un attacco terroristico imminente contro il paese, ma le autorità stanno monitorando 80 sospetti terroristi canadesi che sono tornati a casa da violenti hot spot in tutto il mondo.
Coulombe ha detto che gli 80 sospetti non sono stati imputati a causa della difficoltà in corso nel raccogliere prove concrete contro di loro.
Il Ministro della Pubblica Sicurezza Steven Blaney ha detto che introdurrà nuovi strumenti legislativi nelle prossime settimane per aiutare le forze dell'ordine nel rintracciare i terroristi"
Blaney non ha fornito dettagli su ciò che queste nuove misure comporteranno.
– Toronto Sun, CSIS keeping watch on 80 Canadian terror suspects nationwide
Nel Regno Unito, i conservatori hanno presentato l'"Extremist Disruption Orders", un elenco di regole senza precedenti che avranno gravi implicazioni sulla libertà di parola.
"I messaggi degli estremisti su Facebook e Twitter dovranno essere approvati preventivamente dalla polizia in base alle regole radicali previste dai conservatori.
Potrà essere impedito loro anche di parlare in occasione di eventi pubblici se rappresentano una minaccia per "il funzionamento della democrazia".
Theresa May, il ministro degli Interni, getterà i piani per permettere ai giudici di vietare trasmissioni o proteste in alcuni luoghi, così come l'associazione a persone specifiche. "
– The Telegraph, Extremists to have Facebook and Twitter vetted by anti-terror police
CONCLUDENDO

L'ISIS ha tutte le caratteristiche di un gruppo jihadista sponsorizzato dalla CIA, creato per facilitare la guerra all'estero e la repressione in patria. Se guardiamo la storia del "divide et impera" nel Medio-Oriente o i dettagli sospetti riguardanti l'ISIS e le ripercussioni della sua esistenza nel mondo occidentale, si può facilmente vedere come l'ISIS è la continuazione di un modello evidente. La domanda più importante da porsi è questa: Chi trae vantaggio dalla presenza dell'ISIS e del terrore che genera? Che cosa ci guadagna l'ISIS creando un video che provoca i più potenti eserciti del mondo? Gli attacchi aerei? D'altra parte, che cosa la classe dominante del mondo occidentale ha da guadagnarci? Ovviamente il denaro da guerra ed armi, il controllo del Medio Oriente, il sostegno ad Israele, l'aumento dell'oppressione e la sorveglianza sulle popolazioni nazionali e, infine, il mantenimento delle masse in un costante stato di terrore.
In breve, è stato ritenuto necessario alimentare il panico in tutto il mondo, attraverso il caos in Medio Oriente per arrivare ad un nuovo ordine mondiale. 'Iside', la dea egizia e madre di Horus, è il nome di una delle figure più importanti per l'elite massonica. Il loro motto? Ordo ab Chao … ordine dal caos.
Concept art shows Ripley, Hicks, and everyone's favorite toothy space critters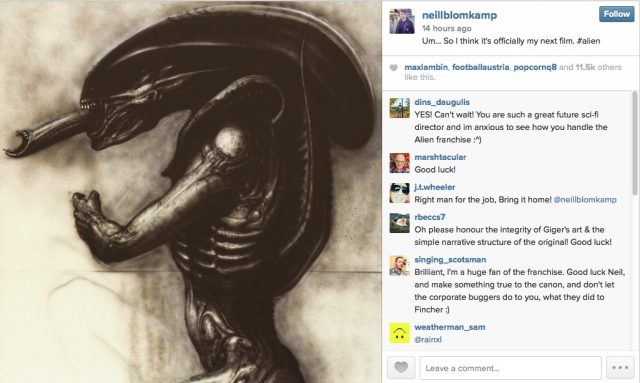 "Um…," starts
an Instagram post
from writer-director-produer Neill Blomkamp, "So I think it's officially my next film. #alien"
The post's image is a painting by Swiss surrealist
H.R. Giger
in the artist's famous airbrush style, of the movie
Alien's
eponymous alien in profile, toothed tongue extended, leg raised like a dancer.
Though the Instagram post is a little light on detail, last night
Variety confirmed
that the message it appears to be sending—that Blomkamp will be helming a new film in the
Alien
franchise—is correct. Citing "sources,"
Variety
says that Blomkamp and 20th Century Fox have indeed closed a deal for a new
Alien
movie and that the movie will be separate from Ridley Scott's
Prometheus 2
(which is still being written while Ridley Scott films the movie version of Andy Weir's
The Martian
).
There are no solid details at this point as to what Blomkamp's
Alien
film might look like and whether it will be a "reboot" of the franchise, a sequel, or something in between. Previous rumors about a new
Alien
movie indicated that series star Sigourney Weaver might be attached; there is no word right now about whether Weaver is involved in Blomkamp's project. With the ink on the deal still wet, there's also no leaked script and no real solid pre-production efforts to spy out.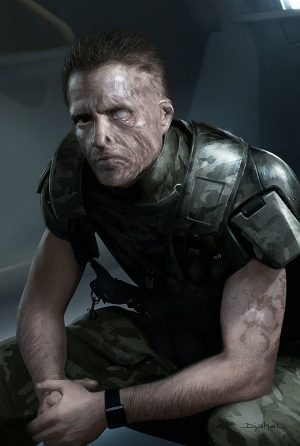 However, for an indication of what kind of story might be lurking in the mind of the 35-year old South African sci-fi auteur, one need look no further than the
Alien
concept art Blomkamp
posted in early January
—concept art which features Weaver's Ellen Ripley (in one image wearing an explosive-laden suicide vest and in another encased in some kind of alien-esque suit) and Michael Biehn's Corporal Dwayne Hicks (with one side of his face disfigured
Phantom of the Opera
-style after the acid splash he took at the end of
Aliens
).
Considering that Hicks was unceremoniously killed off-screen during the initial moments of
Alien 3
in 1992, it appears likely that Blomkamp's plans—at least at this stage—are for a
Superman Returns
-esque "midquel," slotting the new movie into the middle of the existing canon after
Aliens
and dismissing
Alien 3
and
Alien Resurrection,
much as
Superman Returns
was a direct sequel to 1978's
Superman II
and ignored the remaining (bad) movies in the franchise.
With luck, if the deal does result in a finished film, it won't fall victim to the growing trend in Hollywood of Bowdlerizing blockbuster movies in order to achieve a "PG-13" rating (a trend that has apparently claimed this summer's
Terminator Genisys
as its latest victim
). Blomkamp's past two releases—
District 9
and
Elysium
—have both merited "R" ratings and his latest film,
Chappie,
has also garnered the same rating. It's difficult to imagine a PG-13-rated
Alien
movie, and fortunately Blomkamp is unafraid to hold the camera on unpleasant doings—something that will definitely be necessary in a film about monsters that explode out of your chest.
There is as of yet no release date for the film, but we wouldn't expect anything earlier than the end of 2016.
Lee Hutchinson
Source
L'avvistamento di un giovane che stava percorrendo lo "stradone" da Porto Recanati alla città mariana. Arrivate anche altre due segnalazioni da Senigallia e Arcevia
Loreto (Ancona), 18 febbraio 2015 - "Ieri sera
ho visto un ufo
sui cieli di Loreto" e piovono altre due
segnalazioni da Senigallia e Arcevia
. Erano circa le 19 di ieri, cielo già scuro sulla
Basilica della Santa Casa
della città mariana.
Un giovane di
Sirolo
stava percorrendo lo "
stradone
" da
Porto Recanati a Loreto
e nel giro di una manciata di secondi ha visto
una luce strana
scendere a grandissima velocità, fermarsi per un attimo e poi schizzare via in un lampo.
Qualche minuto prima
altri due avvistamenti simili
si sono registrati a
Senigallia e Arcevia
, difficile stabilire quale per primo. Nessun rumore da far pensare a un caccia né un movimento lineare da permettere di formulare l'
ipotesi della caduta di una stella
.
Studiosi del paranormale hanno già
gridato alla presenza degli ufo
. Fenomeni del genere sono tutt'altro che poco frequenti in zona, soprattutto alle pendici del monte Conero.
Decine negli ultimi anni sono stati gli avvistamenti di luci
che seguivano traiettorie a spirale e circolari oppure che svanivano nell'infinito sparate a velocità folle.
Fonte
http://www.latest-ufo-sightings.net/2015/02/sneak-preview-roswell-alien-photo-slides.html
Date of sighting:

Feb 15, 2015
Location of sighting:

Earths moon
This is a fantastic capture by Crrow777 of Youtube. He captures several UFOs passing across the moon and their shape and size are nothing short of extraordinary. He is also a writer for the examiner.com and takes this subject very seriously, so much so that he invested his own time and money into searching for UFOs, and I have to admire his progress. Man, I want what he's using...equipment I mean. SCW
In this clip I show the results of new image processing methods which zoom in on small objects (UFOs) in video footage. Bear in mind I have frozen the object in space - blurry and jumpy frames give the illusion of morphing. This is not the case as is seen in the original footage.
Recently, an announcement has been made that the much-awaited photographic slides of an alien taken in 1947 will be provided to the public on May 5, 2015 during an event in Mexico City to be presented by Mexican journalist Jaime Maussan.
A trailer for an approaching documentary on the slides has been featured as part of the announcement. Interestingly, a screenshot from the trailer may have showed the actual so-called alien photograph.
Produced by Slidebox Media, the documentary trailer may reveal much more than what the researchers intended. The trailer provides some background information about the slides and the original owners of the photos. But, it seems that the trailer also presents a hint of what the alien in the slides looks like through an image from the computer graphics.
Original slide has been blurred whenever it has been shown in the documentary or other researchers' presentations. However, in one scene in the documentary, a researcher uses a magnifier in looking at one of the slides.
Founder of The UFO Chronicles website, Frank Warren, zoomed in on the slide, and it resulted in a clearer picture of what the alien actually looks like. The more defined picture shows some kind of a body lying on a stretcher looking thing with a ruler nearby. It may have been a clearer version of the slide that has been deliberately blurred.
Don Schmitt and Tom Carey, two veteran UFO researchers, have examined the authenticity of the slides, and they are both convinced that a genuine extraterrestrial being can be seen on the slides. The alien being is believed to be from Roswell event in July 1947 that was recovered by the American military.
The two researchers claimed that they have talked to military witnesses of the Roswell aliens, and they can confirm that the alien in the slides is similar to what the witnesses have described.
Gli avvistamenti UFO in tutto il mondo sono in aumento. Questo la dice la casistica. E sempre più persone avvistano UFO. Le ultime dichiarazioni di Jhon Podesta, consigliere del presidente Obama, non danno adito a dubbi sull'origine del fenomeno - " Dobbiamo informare la gente che abbiamo incontrato gli alieni e che siamo in contatto con loro da anni"
Dietro gli UFO, quindi, ci sono intelligenze extraterrestri. Questo conferma quanto già dichiarato da altre personalità politiche come l'ex ministro canadese Paul Hellyer, che fecero tanto scalpore, che ammise il fatto che molte razze aliene non sono molto lontane e sono intorno a noi. Poi ci sono le dichiarazione del primo ministro russo Medvedev, che nel 2012, in un fuori onda televisivo disse candidamente - " Insieme alla valigetta con i codici per il lancio dei missili nucleari, al capo del Cremlino vengono consegnati anche diversi fascicoli top secret, tra cui quelli che riguardano gli alieni. Per maggiori dettagli guardate il documentario russo "Men in Black" ( e non il film Holliwoodiano, come hanno erroneamente scritto alcuni incompetenti - n.d.b. ) . Il dossier in questione contiene informazioni sugli alieni che visitano il nostro pianeta. Non posso dirvi quanti alieni sono presenti tra noi, altrimenti si scatenerebbe il panico "
Ma a questo punto la domanda sorge spontanea. Quanto l'umanità è pronta ad un contatto con civiltà extraterrestri più evolute di noi spiritualmente, socialmente e tecnologicamente parlando?
Una cosa è certa, se una o più astronavi dovessero manifestarsi in maniera spettacolare, da non dare più adito a dubbi neanche ai scettici più incalliti, i primi a subirne le conseguenze sarebbero i governi di tutto il mondo e lo "status quo" in generale. Non sono invece d'accordo, su quanto dichiarato da alcuni giornalisti o pseudo sociologi, che sostengono che ci si sarebbero conseguenze anche per le varie religioni della Terra. Ad esempio, nelle scritture Vediche, che io seguo, non si è fatto mai mistero, che l'uomo non è l'unico essere intelligente dell'universo, e questo da tempi non sospetti. Già 5000 anni fa, si parla di esseri alieni, definiti esseri celesti, che arrivano sulla Terra grazie a "dimore aeree" che ricordano molto le colonie spaziali di O'Neill.
Anche nel Vecchi Testamento si parla in Ezechiele e non solo, di navi spaziali pilotate da esseri non certo terrestri, e così via.
Il contraccolpo più grosso, a mio avviso, lo avrebbe la scienza, o meglio ancora, un certo tipo di scienza oscurantista, che rimasta al tempo del medio evo, continua a considerare la Terra al centro dell'universo, e l'uomo, unica forma di vita senziente dell'universo, disconoscendo, come fa lo struzzo stupidamente mettendo la testa sotto la sabbia, i milioni di avvistamenti UFO, fatti non solo da persone comuni, ma anche da personale addestrato a distinguere lucciole da lanterne, come militari ed astronauti.
Nel Blue Planet Project, un documento redatto fraudolentemente da alcuni scienziati che hanno lavorato a servizio dell'esercito USA, a progetti di recupero di scafi alieni e conseguentemente, dei suoi occupanti, si parla di ben 160 specie di alieni, che visitano e risiedono sulla Terra. Alcuni di essi, addirittura lavorano per l'esercito USA, in segretissime basi militari sotterranee.
Il problema è un altro. Avete mai provato a svegliare chi fa finta di dormire. Difficile riuscirci. Il problema è solo questo. Da parte di molti, non c'è la volontà ad accettare la realtà. Questo comporterebbe un cambiamento negli stili di vita di milioni di persone, un cambiamento, che implicherebbe il superamento di certi egoismi che non tutti sono desiderosi di affrontare, perchè comportano un lavoro da fare su se stessi, che comporta fatica, e non tutti sono disposti a lasciare vecchi concetti comodi e rassicuranti, ma sbagliati, per adottarne di nuovi, più aderenti alla realtà di una civiltà veramente civile ed evoluta, ma che comportano fatica e sacrificio per essere raggiunti e vissuti.
Ma il cambiamento è ineluttabile, chi saprà adattarsi a tutto ciò sopravviverà, chi invece cercherà di fare resistenza soccomberà.
Oliviero Mannucci