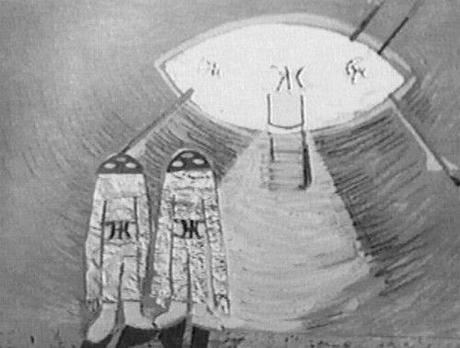 On Sept. 27 of that year, according to the official report, tall three-eyed aliens with small heads showed up in the city of Voronezh, arriving in a shiny ball (or, alternatively, a "banana-shaped" object) and bringing with them their robot. "Scientists have confirmed that an unidentified flying object recently landed in a park in the Russian city of Voronezh," an
Associated Press translation
of the report read. "They have also identified the landing site and found traces of aliens who made a short promenade about the park." They left behind them "two pieces of unidentified rocks," made of a substance that "cannot be found on Earth."
When pressed, TASS stood by the report. In fact, the agency could add more details a few days later, the New York
Times
reported
. For example, aliens were wearing "silvery overalls and bronze boots."
And, as TIME reported in the Oct. 23, 1989, issue, that wasn't all:
Earlier in the year, the newspaper Socialist Industry reported an "encounter" between a milkmaid in the region of Perm and a cosmic creature that looked like a man but was "taller than average with shorter legs." Last week the Soviet newspaper Komsomolskaya Pravda declared that not only had an Abominable Snowman been caught stealing apples in the Saratov region but researchers had "registered the influence of energies" at a site in Perm, leading a geologist to conclude that they had discovered a landing field for flying saucers. The same story transcribed a telepathic discourse between Pavel Mukhortov, a journalist from Riga, and an all-too-knowing extraterrestrial.
"Where are you from?" asked Mukhortov.
"The Red Star of the Constellation of Libra is our home."
"Could you shift me to your planet?"
"That will mean no return for you and danger for us."
"What danger?"
"Thought bacteria."
To the chagrin of Soviet scientists, the thought bacteria are everywhere.
But, as writer Howard G. Chua-Eoan explained, there was actually a pretty good reason for TASS and other Soviet news outlets to go nuts for crazy news like this. For one thing, the policy of
glasnost
— openness in the media — was still relatively new, and publications were experimenting with how far they could go. More importantly, at a time when hope for the Soviet Union was waning, stories of aliens and mystical creatures provided something a little less depressing to think about.
Though many educated Soviets objected strongly to the anti-scientific trend in the state media, UFOs weren't the only fake reports for them to be mad about. "They've been feeding us rubbish about the dream of Communism for years, and we now see they were lying," a Soviet source told TIME in 1989. "At least this gives us something new to dream about."
Source